Pet Sitting Marin Home
---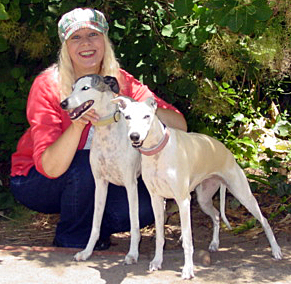 Welcome!
Twelve Reasons to Consider Me as Your Pet Sitter
Thank you for visiting! My name is Lorna Tinus, owner and operator of A Happy Cat & Dog Pet Sitting Services of Marin. As a pet care professional of many years, I am dedicated to providing you peace of mind when you can't be with your pets. I treat my clients' pets as my own, so they get the best possible care and attention. To me, our pets are family members and have many of the same needs and feelings we have. Above all, they need to feel safe and secure in familiar surroundings.
My specialties are cat sitting, rabbit sitting, and one-family-at-a-time boarding for one or two cats from the same pet guardian. I also do dog walks and provide care for birds, fish, frogs, and turtles. The areas I serve include Central Marin County for pet visits and dog walks.
Please explore and enjoy this site. I've tried to make it as useful as possible to you, the pet guardian. You'll find much information about me and my services. You'll also find helpful tips on selecting a good pet sitting service. Be sure to check out my five essential qualities of a good pet sitter. If you need any additional information, please feel free to contact me at any time. I'll be very happy to answer any questions you may have.
Owner Operated. All services are provided by me, the owner, not contract employees. This ensures that your pet gets consistently high level care, and builds the sense of trust and safety that comes from a long-term relationship with one caring individual.
Responsible, Reliable, and Conscientious. I understand how important it is that you have complete confidence in the person you are allowing into your home, and to whom you are entrusting your pet.
Mature and Experienced. I have been providing pet sitting services for over 16 years.
Home Owner's Perspective. Owning my own home gives me extra sensitivity to the importance of attention to detail regarding the security of your home.
No Mass Pet Boarding. My one-family-at-a-time cat boarding services ensure that your pet gets the best possible care and attention while you're away.
Reasonable Rates. I strive to keep my rates as low as possible for my clients, especially in light of today's economy. I also offer senior and financial hardship discounts depending on the situation.
Insured. I am fully insured up to $1 million in liability coverage for pet injury and property damage while conducting visits at your home. This means that in the unlikely event that your pet is injured, or any damage occurs to your home or property as a result of pet sitting-related activities during my visit to your home, the insurance policy will cover the cost. This also applies to any damage to your neighbor's home or property. I am happy to say that I have never been involved in such an incident during my many years of pet care service.
No Advertising on Vehicle. Although such advertising may be a way for pet sitters to attract new clients, it also calls attention to anyone in your neighborhood that you're out of town. I will come to your home in an unmarked sedan.
No Address on Your Keys. Pet sitters obviously need to keep track of all house keys they have been provided. Unfortunately, some do this by putting their client's address on the key. This puts your home and pet at risk should your key be lost or stolen. I never put the home address on your key.
Excellent Long-Term Client References. Chances are very good I have long-term clients in your neighborhood.
Last-Minute Availability. I can usually work additional visits into my schedule when you experience the unexpected and need to be away with little advance notice.
Experienced with Medications. These include sub-cutaneous fluid and insulin administration, asthma, and other treatments. With my background as a registered nurse, I understand the importance of hand-washing between pet visits as a prevention against the spread of illness between pets of different clients.